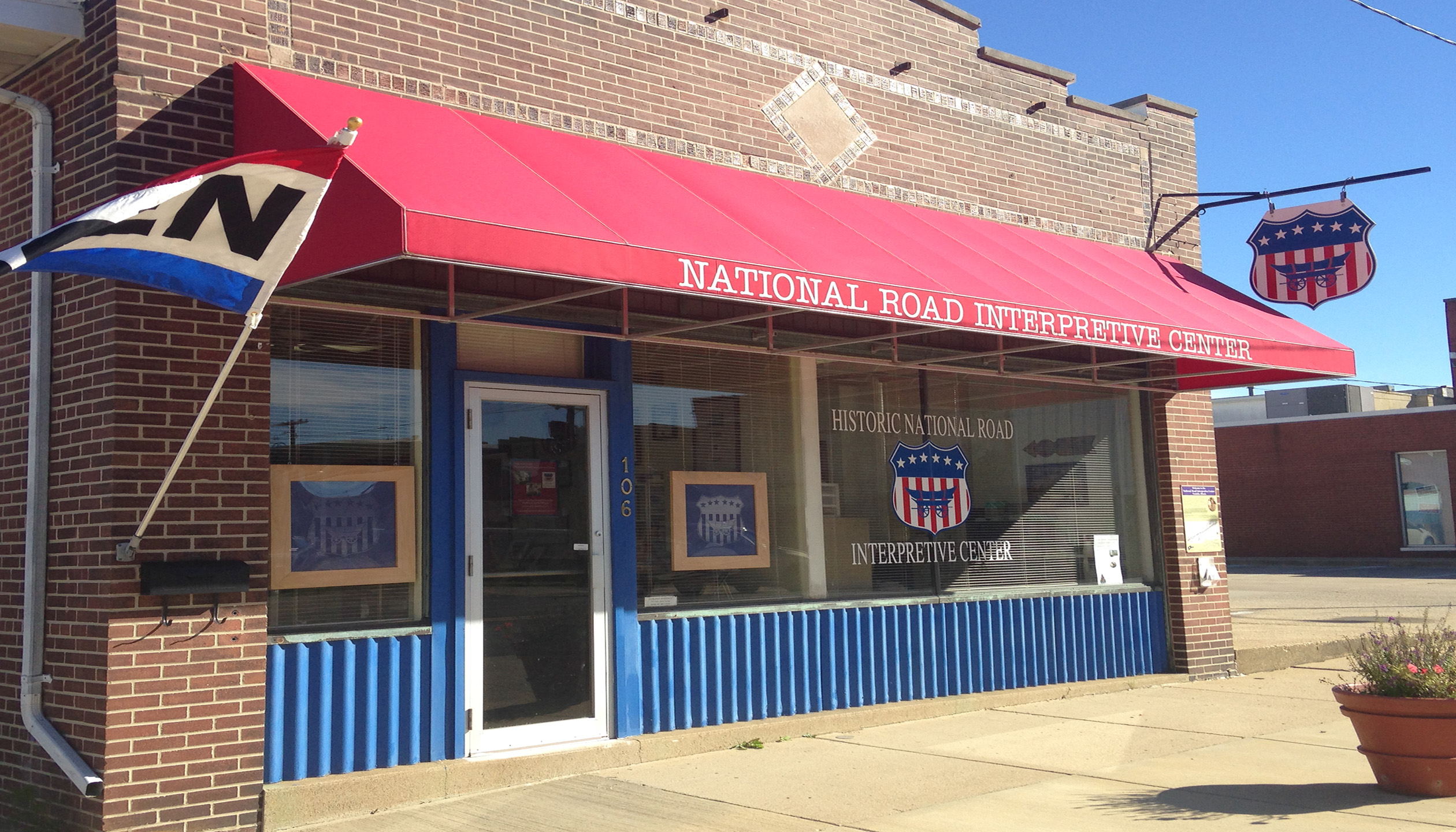 The Historic National Road
Also known as the "Road That Built the Nation", the Historic National Road was created in 1806 by legislation signed by President Thomas Jefferson. Sometimes called "The Cumberland Road" and "The Old Pike", it was the only road completely built with federal funds.
Originally winding from Cumberland, Maryland to Vandalia, Illinois, the National Road opened Illinois to settlement. Today, the Illinois National Road stretches 164 miles from Marshall to East St. Louis and is mirrored by U.S. Route 40 and Interstate 70. Visitors can see where Lincoln's political career began, marvel at a giant catsup bottle, and enjoy the food, festivals, and fun that make the Historic National Road a relaxed journey through Americana.
If you would like to learn more about the Historic National Road, visit www.nationalroad.org.
National Road Interpretive Center
Visitors to the National Road Interpretive Center in Vandalia can experience this historic road through the eyes of those who built the road and later traveled it.
The National Road Interpretive Center in Illinois opened on February 12, 2009, in conjunction with Abraham Lincoln's 200th birthday celebration. Lincoln's political career began as a member of the Illinois House of Representatives, serving at the Statehouse in Vandalia. The Center is located in Vandalia because it was the original terminus of the National Road. Local foundation grants and fund-raising assisted in launching the project. A FHWA scenic byway grant secured in 2009 provided money needed to complete the center.
Some highlights include:
Conestoga wagon model
An 1830s era timber from the original National Road
Interactive map
Lincoln on the National Road room with Lincoln logs for kids
Mannequins representing a surveyor and wagon teamster
Vintage photos of communities along the National Road
Researchers can also access books and documents about the National Road. Group tours for schools, churches, bus tourists and others may be arranged by calling (618) 283-9380.
To find out more information about the National Road Interpretive Center, visit www.nationalroadvandalia.org.
Location and Hours of Operation
Address
National Road Interpretive Center
106 S. 5th Street
Vandalia, Illinois
Phone - 618-283-9380
Hours of Operation
Tuesday – Saturday: 10:00 a.m. – 4:00 p.m.