Overview
The Greater Fayette County Chamber of Commerce
"Doing Collectively What Can't Be Done Alone"
P.O. Box 238 - 

210 S. Fifth St.- 2nd Floor


Vandalia, Illinois 62471




(618) 431-2281


Chamber of Commerce Website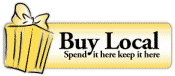 The Greater Fayette County Chamber of Commerce was organized in 1914 as the Vandalia Chamber of Commerce and today has approximately 125 members. Meetings are held on the first Wednesday of the month at noon at the Ponderosa Restaurant, where a short program of general interest is usually given.
From large industry, to self-employed and interested individuals, members of the Greater Fayette County Chamber of Commerce can meet on equal ground to work for the success of their business or organization and for the economic, civic and social betterment of the area.
Membership
Members can always be assured that the Chamber staff will promote Chamber members when an inquiry is received, and any literature or promotion pieces left in the Chamber office will be made available to visitors and those requesting information via phone, mail or fax.
Membership in the Greater Fayette County Chamber of Commerce is an investment in the region, in the other members and most importantly, in your own business or service. Some have said that Chamber membership doesn't cost - it pays!
How Do You Fit In?
You could be the link that unites the chain of leadership and commitment which binds the Greater Fayette County Chamber of Commerce members into a progressive and visionary group from all areas of the community.
Your membership can help link us all together so that we can become a stronger organization, committed to working for the betterment of the Fayette County area. Each day we compete separately in our own business arenas. We strive to develop new products, capture new markets, improve our service. Some things are just too big to tackle by ourselves. If these issues affect enough of our membership, we join hands and do collectively what we cannot do alone!
Our Mission
To advance the interests of business, professional and service organizations in the Fayette County area, acting as their voice in governmental and social affairs, communicating their needs and enhancing the quality of life.